---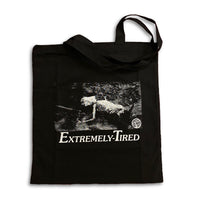 Them: Awwwww...is that E.T. on your tote?
You: Yup.
Them: Wait. That doesn't say Extra-Terr...
You: Nope. It says Extremely-Tired. That's what I am. Extremely-Tired. Now for fucks sake please fuck off.
You may not even need to have that conversation if they match up the words on your tote to the expression on your face and luggage under your eyes. If you're at the point where you're okay with being left in a fucking river if it means being left alone then this tote is for you. So buy one now so you can go back to sleep. It's okay. I understand. Most of us do at this fucking point. I fucking love you.
*14.5" x 16" 100% 6oz cotton canvas tote
QUALITY SOLD SEPARATELY
Made with fear & uncertainty in Los Angeles, CA
*This bag compliments the bags under your eyes nicely
*Shit sucks and everything's stupid right now
*All sales are final just like my terrible life decisions
*Fuck this shit I'm going back to bed