---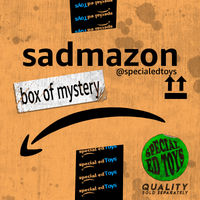 The Sadmazon Box of Mystery is fucking baaaaaack...and with a bunch of new shit too...butt this time they're limited ass fuck! So if you want to try your unluck don't think twice..or even once for that matter. Just do it! Now onto the description...
Do you like to gamble? Do you buy sushi from the corner liquor store? Did you really think things were going to go back to normal after the first lock down? Do you masturbate without any Kleenex on hand? Well then Special Ed's Sadmazon Box of Mystery is for you! Each box is valued to be at least twice the value if not more! Wow! But what do you get? Well in there lies the overwhelming anxiety and regret! You can get anything from sold out enamel pins, new pins, pins from other artists from my personal collection, stickers, mini figures, blind boxed mini figures, my own resin bootleg non-action figures, apparel, medium to large designer vinyl toys and random trash...I mean treasures I think ya'll would dig! Everything is brand new meaning it's never been displayed, worn, used, bleepity bloop blah blah. Packaging (like the box the toy is in) may be dinged up but the actual pin, toy, etc. will be in new unfucked condition! Yay! And last and certainly least, please put your t-shirt size in the notes section during checkout! There is no guarantee that you will you receive a t-shirt or a thing of such you can wear (wtf does that even mean?) but if there is something wearable available then I know what size to throw in...I mean you're probably going to fucking hate it butt at least it'll fit! So...are you ready to spin the chamber?
QUALITY SOLD SEPARATELY 
*All sales are final just like my poor life decisions
*Please note that this is for fun and as much as I might like to be able to read minds, I cannot. So if you don't get stuff you like I apologize if you're nice about it and go fuck yourself if you're being a dick :) I'm sure someone ya know may dig some or all of it!
*Thank you. I fucking love ya'll.